How Your Organisation Can Better Support The Mental Health Of Staff
There is a growing awareness in many HR teams that support for mental health issues in the workplace must be improved. Too often wellbeing covers the physical, but the mental side is equally as important. Currently a hot topic in the media you may even have come across campaigns like 'Time to Change' and the Government Review 'Thriving at Work'.
These campaigns are setting out to try and get rid of the stigma surrounding mental health, allowing staff who suffer with any problems to understand they can share what they are going through and gain support from work.
In July I went to the launch of the Thriving at Work Toolkit, set up by the City Mental Health Alliance (CMHA). The toolkit aims to help businesses with 500 + employees become mentally healthy workplaces, based on the Stevenson Farmer review of mental health and employees, commissioned by the Prime Minister in 2017. The toolkit was developed by CMHA members which include The Bank of England, Hogan Lovells, KPMG, Goldman Sachs, PWC, The FCA, BNY Mellon and Legal & General. You can download the toolkit here, which provides clear interventions, good practice and self-assessment tools.
For those of you concentrating on wellbeing at work (and we know from our 2018 Wellbeing and Benefits survey that many of you are taking wellbeing seriously, with 54% of survey participants investing more than last year in staff wellbeing, 44% the same, whilst only 2% of organisations are investing less than 2017), we are absolutely certain that adding as much support for mental health to your benefits offering to staff as possible will be a brilliant way of attracting and retaining talented staff. It is what staff want – millennials have a far greater focus on 'self care' than baby boomers, indicated by the growth of consumer apps for mindfulness, CBT and online personal and professional coaching.
How Do You Deal With Mental Health Support At Work?
First of all, improve awareness and reduce the stigma surrounding mental health. This can mean leading from the top, perhaps getting key staff to share their experiences with others in the company.
Keep communication channels open so if people need to talk to someone, staff feel they can talk. From our 2018 Wellbeing Survey some initiatives organisations undertook to improve mental health wellbeing communication included regular informal catch ups among teams, and senior leadership speaking openly about mental health issues. This helps break down barriers and get staff talking, in an atmosphere in which they felt they can be honest.
Adding posters around the workplace with information on about services available to staff (back of toilet doors, kitchen area), would also make a huge difference. At Reward Connected, when we do benefit review focus groups with organisations to find out which benefits would actually suit them, we often discover that staff are unaware of the current benefits the organisation currently offers. This information, perhaps offering hotlines for financial advice or counselling, will help enormously those staff who have concerns but have not yet spoken out. In fact, language and communication can play a huge role in the successful uptake of staff benefits. Deloitte recently announced a change in the naming of its "Employee Assistance Programme" to "Advice Line", leading to an increase in update from 6 – 27%.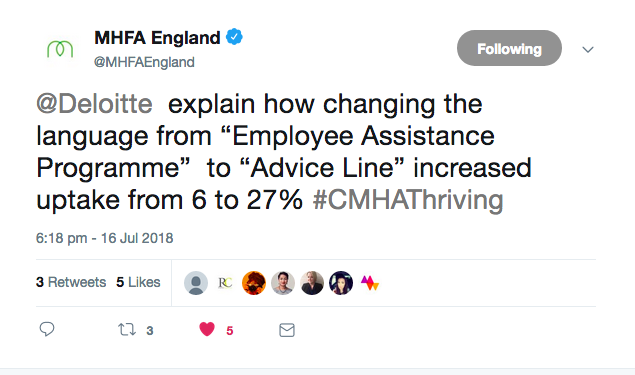 Staff should be offered products and services that help them, perhaps Mindfulness apps, Employee Assistance Programmes (Advice Lines!) that offer counselling, promoting healthier lifestyle choices at work. This could include the popular 'walking meetings' which we found more organisations taking up from our 2018 Wellbeing Survey.
You could also run monthly wellbeing awareness sessions, either in groups or with individuals, or mental health awareness days to focus on the problem and look at the attitudes towards mental health within the business.
Consistent communication helps with improving workplace culture, bringing mental health awareness out into the open and no longer allowing it to become something employees are stigmatised for.
Training is also important. As well as physical first aid courses, you can now have staff trained in mental health first aid. Our 2018 Wellbeing And Benefits Survey showed that 57% of participants offer wellbeing training to managers, giving them the skills they need to spot when employees need help and tailoring support appropriately.
Resources To Help HR Departments With Mental Health
There is lots out there for organisations to use, in particular Mind.org and for their article on tips for workplace mental health.
Royal College of Psychiatrists has lots online to support staff with mental health problems, helping avoid long absences from the workplace – https://www.rcpsych.ac.uk/usefulresources/workandmentalhealth.aspx
Many organisations have been taking a mental health first aid courses to help recognise when someone needs help. These courses are run by Mental Health First Aid England.
How Can Reward Connected Help You With Wellbeing?
If you want to see how your organisation compares to the market in your benefits and wellbeing for staff we can help with a benefits review.
You simply let us know where you stand and we will, with our data and experience of the wellbeing and benefits trends in the marketplace – specific to your industry – be able to offer you a clear analysis of where you can improve to get your organisation in line with the market.
To take part in our annual Wellbeing and Benefits Survey just get in touch with us today and we can send you more information.